Get Started Selling on Amazon: The Complete Step-by-Step Guide (Part 2 of 12)
Part 2: Researching Hot & Profitable Products To Sell on Amazon
In Part 1, we covered how to open a few accounts that you need to create in order to lay the foundation for your Amazon selling income stream.
In this part, we will cover one of the most crucial parts of any undertaking- research.
Fair Warning: This is a long one so grab a cup of coffee or your favorite drink- and sit back 🙂
As you may know, good research will set you on a path to success while bad or no research means you're going in blind hence more likely to fail. It's a good idea to form a habit of always researching before moving forward.
But, the fact that you're reading this post means that you are doing your due diligence to educate yourself (a form of research) before diving in- so kudos to you!
End Goal
By the of this post, you should have learned how to identify a hot product to launch your Amazon selling stream and be able to determine how well the product will do.
We will also briefly look at finding whether we can find a supplier for the specific product- in part 3, we'll cover how to narrow down all the suppliers we find so we can go with the best.
Ok, let's jump right in!
(Assuming you're ready to have like a hundred tabs open- jk!)
Step 1: Have your Spreadsheet Ready
Remember the spreadsheet we created in step 1? Create a new tab and call it "Best Selling Products Research" or something that you will remember.
You can also view or download a template copy I made available for you that will contain everything you need to carry out your research and analysis.
Click to view/download my Google Spreadsheet Template (contains analysis formulas).
Step 2: Set up columns
Add the following columns (as shown in the screenshot below) Product Name, Selling Price (+shipping), Amazon Fees, Shipping, MOQ, Unit Cost, Profit Per Unit, Total MOQ Cost, Total Profit, Total Profit, & Potential.
Here's the explanation for each;
Product Name- Put the product name as listed on Amazon
Selling Price (+shipping)- This is the cost of your selling price including shipping, it's the amount charged to your buyer.
Amazon Fees- Each product has a different fee depending on category and selling price (you can calculate fees by using the FBA Calculator)
Shipping- This is the actual cost you will incur for shipping, it will help us calculate our expenses
MOQ- Minimum Order Quantity as per supplier or how many units we are willing to buy.
Unit Cost- The amount the supplier is selling item for including freight cost.
Profit Per Unit- Will show how much after shipping and Amazon fees we'll make.
Total MOQ Cost- Snapshot of how much we'll need to invest to purchase our inventory.
Total Profit- Snapshot of profit we stand to generate.
Potential– Simple formula to calculate the possibility of making a decent profit. If it's under -60 % stay away from the product. Although you'll make money, it's not worth your effort.
Step 3: Find products
Now that we have a system set up to help us quickly determine whether a product will be a good fit or not, we can get started.
I have stayed away from fancy costly softwares for this process and used my brain and free tools instead.
There are 3 methods I use to find profitable products (all self-taught) so if you have a better method, feel free to leave a comment and let me know.
Method 1: Going through the Bestseller List
Method 2: Using a free tool called Profit Spotlight
Method 3: Gut feeling (we will cover this on a separate tutorial)
Action: You don't have to but, there's a new tool I recently found and it's been very helpful in saving time. It's called the AMZ Sellers Browser (Chrome Extension) install it on your Chrome browser. Here's link (non-affiliate link)
As you will notice above, every time you perform a search on Amazon, it displays some extra helpful information on each item. It shows you the item ranking and tells you under which category, gives you the ASIN (number you'll need to list the item), tells you who's selling it and if there's any FBA sellers (Fulfilment by Amazon) etc.
Method 1: Going through the Bestseller List
1. Go to Amazon Best Sellers here
2. Click on one of the products listed.
I chose the Roku Top Box. I notice that it's doing well (over 800 positive reviews, over 250 questions (meaning people are interested enough to inquire), there's only 27 other sellers I'll be competing with) so this is a good candidate.
3. Now, let's see if we can find a decent supplier.
Open DHGate or Alibaba and perform a search on both using the title listed on Amazon.com. AliBaba has some but they don't show the pricing, so since I don't have much time to place an inquiry and wait for the vendor to respond, I'll just go with DHGate. There's a price of $46.60/unit.
4. Now plug in all that information into your spreadsheet.
You'll notice that even though the main price is $89, I listed it at $85, that's because that's the lowest offer from a different seller and we want to be competitive.
Tip: When starting out, you want to list your item as the lowest price to attract bargain shoppers as you gain credibility (ratings, volume etc) since you'll be fairly new.
As you can see from the screenshot, although we are making a profit of over $2,000 our potential indicator shows -56.37%. This is not horrible, although it's cutting it close to our -60% "no-no zone."
So, I'll look for another product.
This time I'll use method 2.
Method 2: Using a free tool called Profit Spotlight
1. Open the Profit Spotlight (non-affiliate link) website on your browser. It will ask for your email- just put a fake one for now, as of the time of me writing this post they won't need to confirm it. It's pretty straight forward, so play around with it. I'll consider creating a tutorial if I get enough requests.
Profit Spotlight is a pretty cool because it pulls and aggregates data straight from Amazon and presents it in a well organized form that you can easily analyze.
I'm not sure that the data they pull is in real time but I know it cuts it close.
Under "Top Picks" I have spoted a very interesting product- the "Emson 9663 Car Cane Portable Handle"
It's "hot", has an amazing opportunity score of 94% and generates sales of over $10,610/day– nice!
2. Find suppliers and add numbers to our spreadsheet
Just like we did with method 1 above, plug the data in and look for a supplier on DHGate or Alibaba.
Tip: To get numbers on Amazon Fees be logged in to your seller account as you perform this research and when you see a product that you are interested in digging deeper on, add it to your inventory and put your desired price. Amazon will give you the exact fee amount.
3. Analyze Suppliers
Ok, now there's quite a few sellers on AliBaba, I've selected one who has a good reputation and a good price (I'll cover more on the supplier analysis process in part 3)
4. Analyze Numbers
It looks like we can get them at $3.99 (after negotiating down from $4.50). This is great, let's plug that last number into our spreadsheet and plan to buy 400 units.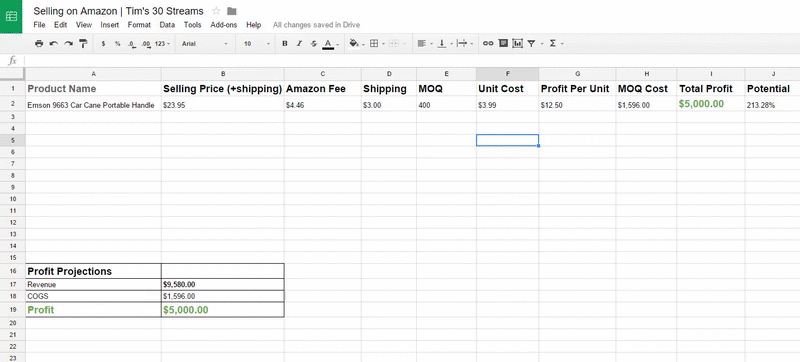 AMAZING!!! The numbers are looking really good GREAT! The profit potential is a whopping 213.28% with a profit of $5,000. For a $1,600 investment, this is not bad at all!
As if that's not enough, there's only 7 sellers to compete with.
This one's a winner!
Rinse and repeat to find as many products as your budget allows.
NOTE: A good rule of thumb when trying to figure if a product will be a good fit for you without doing all the math is by making sure your total unit cost (including shipping from the supplier) is a third of your selling price on Amazon. E.g. If a product is selling for $24 on Amazon, you want your total unit cost to be $8. So that can be $6.50 (product cost) + $1.50 (shipping cost) max. Anything above $8 will start take away from your margins.
In part 3, we'll analyze this supplier and make sure they're the right one. We'll also go into how to negotiate and ensure that you get the best deal as far as price, turnaround and most important quality.
I know this was a long one, so if you have any questions, please feel free to leave them in the comment below.
FUN FACT: This is an actual product that I am trying out on my Amazon store. I debated whether or not to share it in fear of having too many competitors join and flood the marketplace but I quickly brushed that thought because it goes against my purpose for this blog- to share all my knowledge experiences with you so you can get closer to your goal of creating multiple successful passive income streams.
Thank you for giving me your time.
If you have any questions or are stuck and need help completing any of the steps outlined here, leave me a comment below or email me and I'll be happy to help.
Keep Reading 
This post is a part of the ongoing Get Started Selling on Amazon: The Complete Step-by-Step Guide series, follow the links below to read them: