Get Started Selling on Amazon: The Complete Step-by-Step Guide (Part 3 of 12)
Part 3: Finding the Right Suppliers for Your First Amazon Inventory Batch
In Part 2, we covered how to Research Hot & Profitable Products To Sell on Amazon.
In this part, we will look at some pointers to finding the right supplier for your Amazon store.
I'd like to point out that I am not a professional when it comes to importing or sourcing products. What I share here and on most of my blog posts is based on my opinion that is purely driven by what's worked for me.
That said, I do my due diligence to research a potential supplier as much as I can and in the end go with my gut feeling. I suggest you do the same with all your transactions.
But most importantly remember this is business, there's always some level of risk involved, your job is to minimize it as much as possible or better yet eliminate it.
The purpose of this post is to help you do both.
So, what makes a good supplier?
In my opinion, a good supplier will possess the most of the following qualities;
1) Sells good quality products
The quality of your products should be #1 on your list. Without this, you don't have a business- especially not on Amazon.
How-to: Before buying samples (1-3 pieces) check the seller's reviews to see what other buyers are saying about the specific product you're looking to buy.
2) Competitive prices
This will enable you to play the "race to the bottom" game with no problem as you work on establishing yourself on Amazon the first few months.
How to: Price shop, there's no shortcut around this. After I have picked out what product I want, I normally have a few tabs open then start my price analysis. I have also made a habit of emailing the supplier to request discounts directly or ask them when their next sale will be.
Every cent counts. It works every time.
3) Fast shipping
When you start, you will not have the JIT (just in time) inventory system down. So there will be a lot of last minute restocking moves.
For that, you'll need a supplier that ships your good fast. I have been blessed to find manufacturers that ship things out FAST! Like I have placed my orders  from China on Thursday and had the goods on my doorstep by Monday afternoon.
How-to: Suppliers that have DHL shipping option are the best. I've noticed most that offer DHL and ship to the US offer free shipping and it normally takes 2-7 days.
4) Accommodating Return Policy
You want to be sure that in case of damaged goods and/or poor quality merchandise, you can return it for a full refund. The only thing you'd lose out on is time invested.
How-to: Make sure you read the supplier's return policy before purchasing. It also doesn't hurt to contact them beforehand and asking specific questions from their return policy- be direct but respectful. As a rule of thumb, don't do business with someone that does not accept returns.
5) Low minimums
When starting out especially when you're testing out a product in the marketplace, you don't want to buy 1,000 pieces of anything. 10 – 20 is good enough. This will help you gauge the quality before tying up all your capital in something that hasn't proven to sell.
How-to: Look out for suppliers with low minimums (see anatomy of a DHGate Product Page at the end of this article)
Bonus: Other things I look at are; 10+ Transactions, at least 10+ 4.5 Star ratings and communication speed. The faster the better.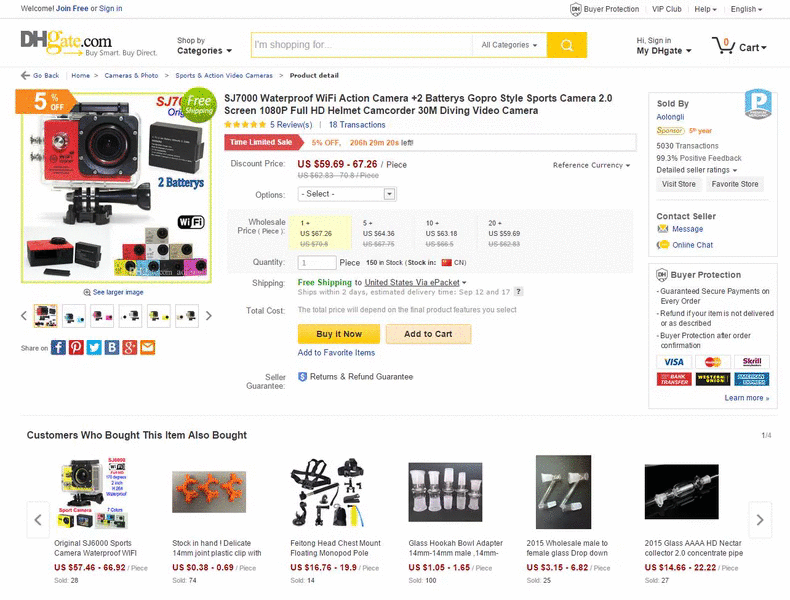 How to Spot a Scammer on Alibaba/DHGate and other Red Flags
As of 9/2/2015, I have found so many scammers on Alibaba and none on DHGate- that is not to say that none exist, I just haven't encountered any yet.
I am yet to figure out why Alibaba has so many but my assumption at the moment is that it's easy to set up a store on Alibaba, plus it being bigger and more established automatically attracts all sorts of scammers.
Here are a few things I have done to make them run away from me like they're on fire.
Red Flag #1: Their prices too good to be true
When a supplier is selling you an iPhone for $20/pc with no minimums, c'mon the red flags should be going up everywhere.
They want you to pay with unsecured payment methods e.g. Wire Transfer, Western Union or MoneyGram. Granted in sites like Alibaba majority of the suppliers only use the above methods, I insist on PayPal because I know there's buyers protection.
So if they insist on any of the above methods, tell them that it's against your company's policy to use those methods and that you only accept PayPal.
If they are legit, they will accept and add a 4.5% upcharge to the final bill but if they are scammers, you won't hear back from them.
They are not willing to send you samples and if they agree to, they want you to pay via an unsecured method (wire transfer, moneygram, western union etc)
Red Flag #2: Goods that are obviously fake
Take your time to read product description. You can see what previous buyers have to say about the quality of goods.Watch Full Movie Online Streaming Online and Download
Also be careful to read the title description, fake products have extremely deceiving names.
Red Flag #3: Constant Nagging
There's a thin line between following up on a lead and nagging.
Scammers will nag you every day with offers that are characterized by huge promises to deliver and ridiculously low prices. They will even offer you their boss' passports to prove that they are legit and seem to prepared with any little piece of evidence you request and that is why they are scammers.
Red flag #4: No company website
When someone tells you that they have been in business for more than five years but when you ask them to show you their website they tell you that it is still under construction and even send it to you some random link to have you see it for yourself, run!
Red flag #5: Discounts on Samples
If you are buying smaller quantities of samples (1-4pcs) you should not get a discount from an honest supplier because they are already losing money while with the scammer they are happy to offer you "very good price" as they like to say.
Why I like DHGate
-They hold your money in escrow
-There's a lot of payment options
-They display their prices so I can budget (Alibaba displays on some but most you have to request a quote- takes too much time)
-They have many ongoing promotions that help me save plus when you spend your first $3,000, you become a VIP which has it's perks including additiona discounts.
-They have a great buyer protection program one of them is a Dispatch Pledge which states that; When the seller does not dispatch the goods: If the seller doesn't provide a valid tracking number within the agreed processing time, the system will automatically release payment to the buyer and also deduct US $20 from the seller's account to compensate the buyer when the processing time has expired."
The Anatomy of a DHGate Product Page
Quick link to check reviews, don't accept anything less than a 4.5 or 4 (minimum).
This is the number of sales for this specific listing. I normally make sure the product has a minimum of 10 transactions.
Countdown timer for a sale. I'm always on the look out for this to make sure I save- every cent counts.
Item price, normally changes based on show in highlighted box below the drop-down menu.
This drop-down reveals all the shipping methods. ePacket is popular and mostly free, however I normally look out for free DHL shipping since it's much faster in comparison.
Fine print of the shipping time.
This is the name of the supplier, click on the link to go to their store and learn more about them.
"P" for Premium Supplier (there's also "T" for Top Supplier). Both good badges to have, read more about it here.
Shows the length of time they have been selling on DHGate (still not clear on what "Sponsored supplier" means and I can't find info anywhere, but I'm guessing it's a good thing).
The number of total transactions this particular supplier has carried out on DHGate, the more the better, I go for at least 1,000.
Their overall feedback. I go for a minimum of 99%.
Link to their DHGate storefront, this will give you a better idea of what else they sell.
Two links to contact the supplier, I always use the chat feature to negotiate prices and clarify specific information.
Always check what kind of protection a supplier is offering, each supplier is different.
Shows all the various payment methods, the fact that they accept Visa & MC is good because most Credit Card companies offer fraud protection.
This links to the supplier's return policy. It's always good to read the return policy and ask questions if something is unclear.
I hope this gives you a place to start in finding the right supplier for your Amazon store. Remember this is a business and it comes with a certain level of risk, so tread with caution but don't be to afraid to make a few mistakes here and there.
When that happens, just learn from your mistakes and build from that.
I'll keep adding more information on here as I learn more about the landscape so check back often.
As always, if you have any questions or are stuck and need help completing any of the steps outlined here, leave me a comment below or email me and I'll be happy to help.
Keep Reading 
This post is a part of the ongoing Get Started Selling on Amazon: The Complete Step-by-Step Guide series, follow the links below to read them: